Nepal is still in lockdown and for now, SMD School is closed until the Ministry of Education allows schools in Nepal to reopen. At the end of March, we had moved up our final exams so that many of our children were able to finish final exams. Following, we officially had to close the school on March 27th as Nepal's only tool to mitigate disaster from the pandemic is lockdown. We also sent all our staff home and will continue paying their salaries as long as we possibly can.
We ensured that all of our over 350 boarding students were able to safely return to their families—it was a huge logistical challenge, but we persevered. Only two children had to stay behind, and we are able to care for them.
All the 40 school-going monks and their monk teachers (including our SMD School Principal and VP) who normally live at the Thrangu Tashi Choling Monastery, located close to the Boudhanath Stupa, moved into the empty SMD boys' hostel—the monastics are governed by a different ministry that is allowing them to continue operating and to stay in the SMD compound. This is nice for the young monks because at SMD School, they have more space to play and will be 'safer' (speaking in terms of the virus) than in the monastery as SMD School can be fully locked down. Our school-going nuns from Thrangu Tara Abbey are okay staying at the Abbey as their compound is large enough.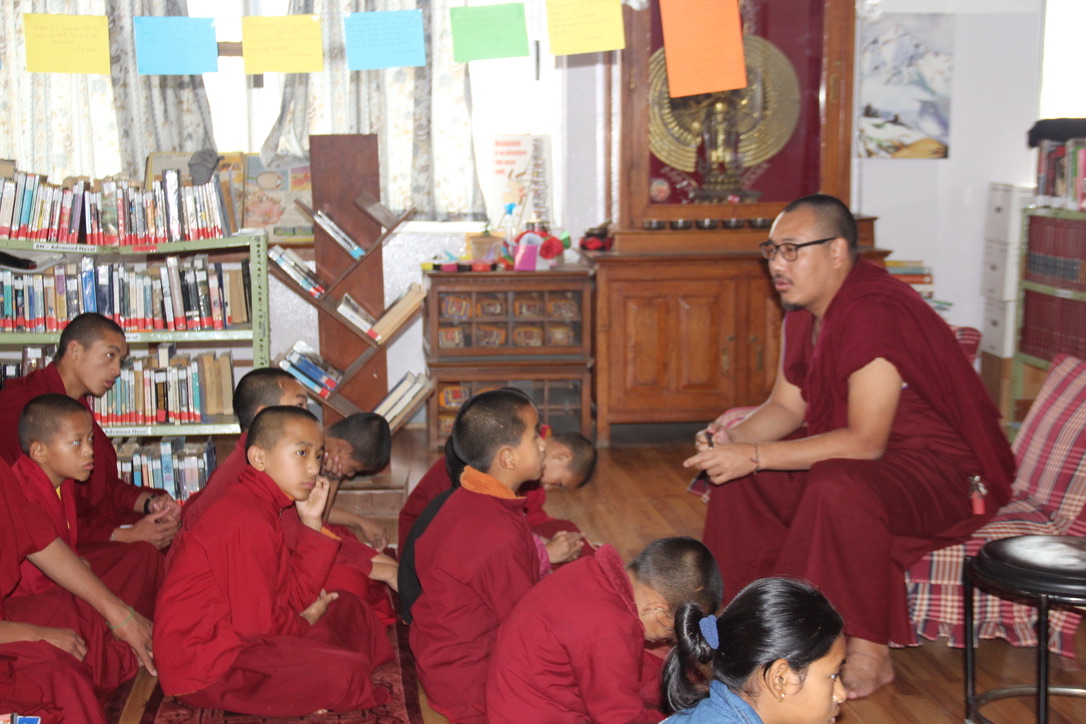 Meanwhile, the young monks are continuing classes (Tibetan, English, Nepali & Computer). The two children who couldn't go home join the monks' classes. The monks do prayers and meditation every afternoon. Some of the Senior students chose to stay in lockdown at the school to help in the Director's office and to teach the young monks. The Seniors offer a chance to sing karaoke on Friday afternoons, which helps with language development, including reading comprehension, vocab, and pronunciation. The monks chose to work in Tibetan. Good choice for Nepali kids!
We have put together an online network for any of our students who happen to be in the Kathmandu Valley staying with relatives and who do have access to the internet. SMD alumna Tenzin Sangmo Lama is in charge of moderating the online support network.
All six of our high-school scholarship students oversees (Japan, Switzerland and Norway) are staying put. They are safer outside Nepal (Kathmandu is densely populated, not prepared for an outbreak, and a large proportion of Kathmandu residents have no access to soap and clean water). During this challenging time, it has been heartening to hear that our alumni near and far are sending messages of support and prayer to us and the world.
Since the COVID-19 outbreak, costs for manufactured goods have risen sharply as everything is imported, and we are losing some student sponsorships. This year, for the first time in four years, we are increasing our sponsorship rates; however, we will continue to be as flexible as possible to ensure that our long-term and new supporters can still contribute at the level that is possible for them (e.g. we can find a second sponsor for a child to share the annual costs; likewise, monthly donations are possible).
For a summary on the situation in Nepal, please read South Asian Voices COVID-19 in Nepal: Low Numbers Don't Tell The Whole Story, the Kathmandu Post's Nepal Government Extends COVID-19 Lockdown Until May 7 and Kathmandu Post COVID-19 Portal.
Spring is well underway in Nepal. We look forward to the day we can start classes again. In the meantime, I am sending you my thoughts of peace, love, and strength,
Shirley Blair
Director & Fundraiser
Shree Mangal Dvip Boarding School for Himalayan Children