Schools across Nepal are still closed
Across Nepal, schools have been closed for five months. Even though public schools are not offering any education, not even online, teachers are getting paid. Private schools were trying to offer online instruction, but the government didn't allow them to charge tuition for it; so, staff didn't get paid and classes had to stop.
SMD School is teaching online and, in the villages
As soon as we could, we started teaching online classes (K to 10) for those of our children who have internet access—which is mostly those in the Kathmandu Valley (most of the kids in the mountains do not have access to the internet). Our teachers have been working hard to learn how to teach remotely and help children to adjust.
We now have classes running in 18 villages in four different districts: Sindhupalchok, Gorkha (Nubri and Tsum villages), Manang and Mugu. Our own SMD senior students and alums who returned to their villages are teaching these classes for the younger kids.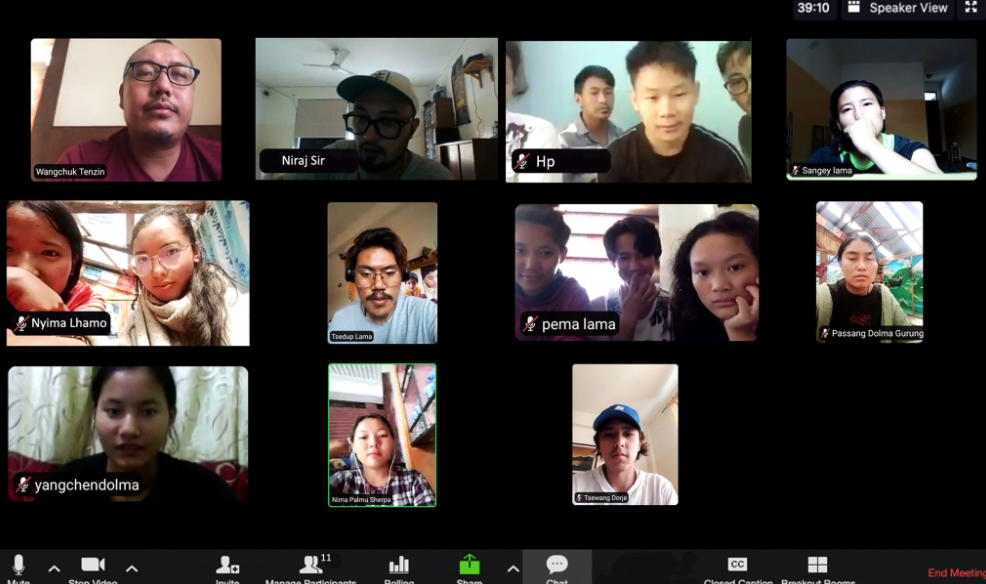 Winter is coming…
If you've been reading our Facebook updates, you'll know that hunger is gnawing at the people of Nepal. So far, our kids in the mountains say they are ok, but with extra mouths to feed, their families are starting to eat their winter stores. A lot hinges on the harvest this year.
We've had word that the children do need clothing. When they went to the mountains in March, many children only took the clothes for the summer months, thinking they would be back in school within a couple months (some are wearing their parents' and cousins' clothes now). We will have to organize and deliver cold weather gear up to the villages as soon as possible.
Class 10 Students Ace Their Graduation
In Nepal, students need to finish their grade 10 with a National Board, Secondary Education Exam (SEE) in order to receive their official government certification for graduation. Our grade 10s waited in Kathmandu for months for word on the exam date until the government decided to cancel the SEE exams alltogether due to COVID-19. But the students could still graduate with a certificate through a continuous assessment grade provided by their respective schools in accordance with government instructions on how to assess. SMD always does mid-year mock finals (tougher than the government exams), which has provided us with additional help in assessing our students' grades.
Marks ranged from B+ to A+, and we regained our standing in the ranking for National Board (SEE) exams. We lost ground for a few years due to political interference. Both children and staff are happy, and it shows in everyone's performance. All other children finished their final exams before schools were closed due to COVID-19 in March. We had 'preponed' exams – as we say in Nepal!
SMDers (adults) are delivering food aid but funding does not come through SMD – our mandate is the children in our care
Due to the generosity of Global Dental Relief, we have been distributing food aid in our SMD School neighbourhood for the past nine weeks. Also, earlier in the week, we distributed food in Sindhupalchok, which has been devastated by relentless monsoon rain, floods and landslides. A friend in Switzerland, after reading one of our updates, immediately offered help. We distributed a month's worth of rice, lentils, oil, salt and masks for 1800 people. Our friend has pledged to continue helping and is planning to ask her friends to donate on her 80th birthday at the end of the month!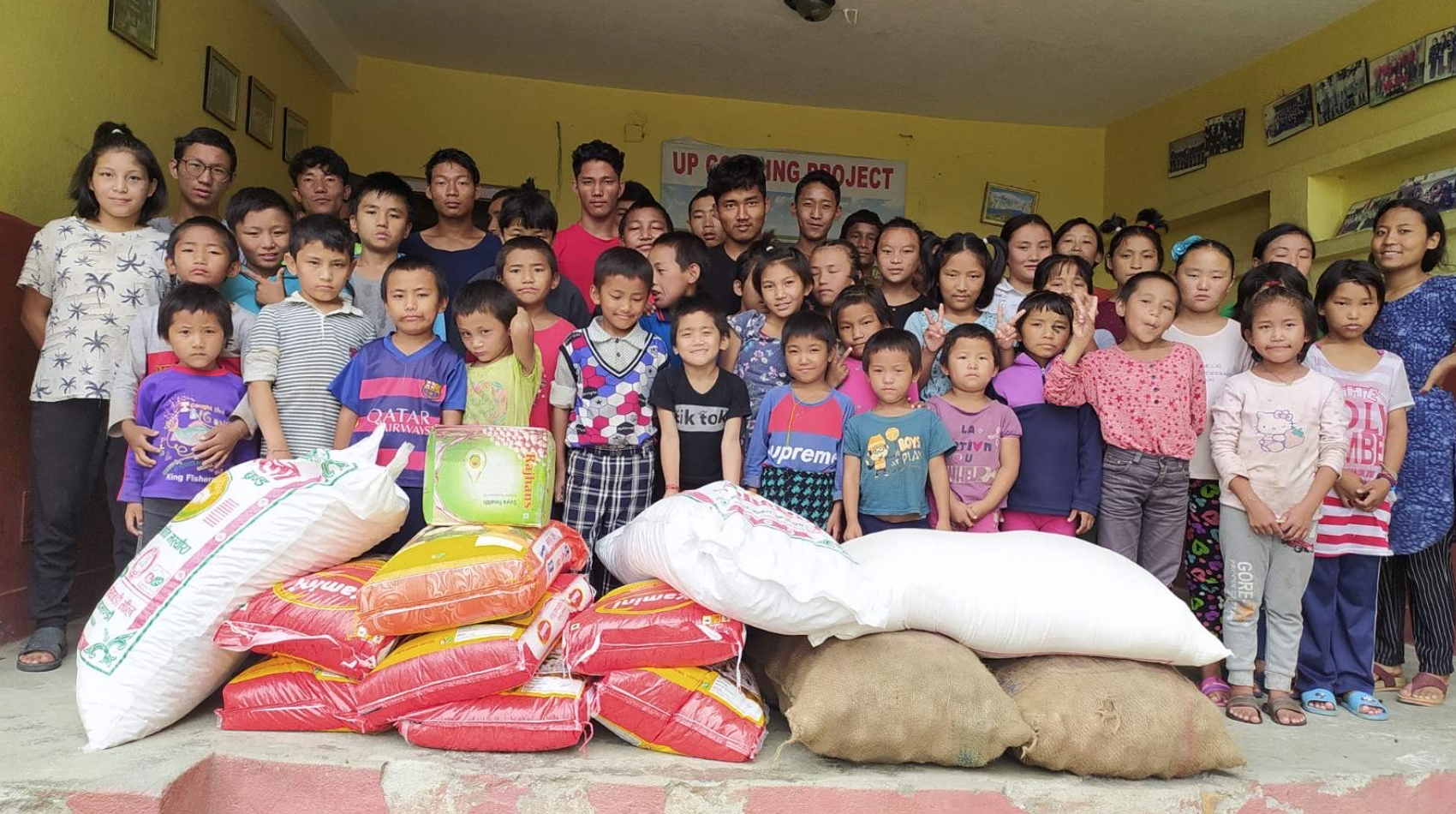 Through sponsorship, education continues
The pandemic has changed everything…but we are trying to do our best so that SMDers can continue their education whether online or in person in their villages. We could not do this without teachers going online. Sponsorship has always helped us to meet children's needs and to do so, we need to pay our staff. And our older students who are volunteering to teach in the villages need supplies. The village classes are making do with what comes to hand but need textbooks and learning materials. It is still monsoon season; flying is unsafe, and the trails are hazardous. When we are able to do so, we will get learning materials up to the children, either by helicopter or by donkey train. Classes start with SMDers, and inevitably, the rest of the village children will join…even if they are not SMD students! No other schools seem to be doing village outreach at this time.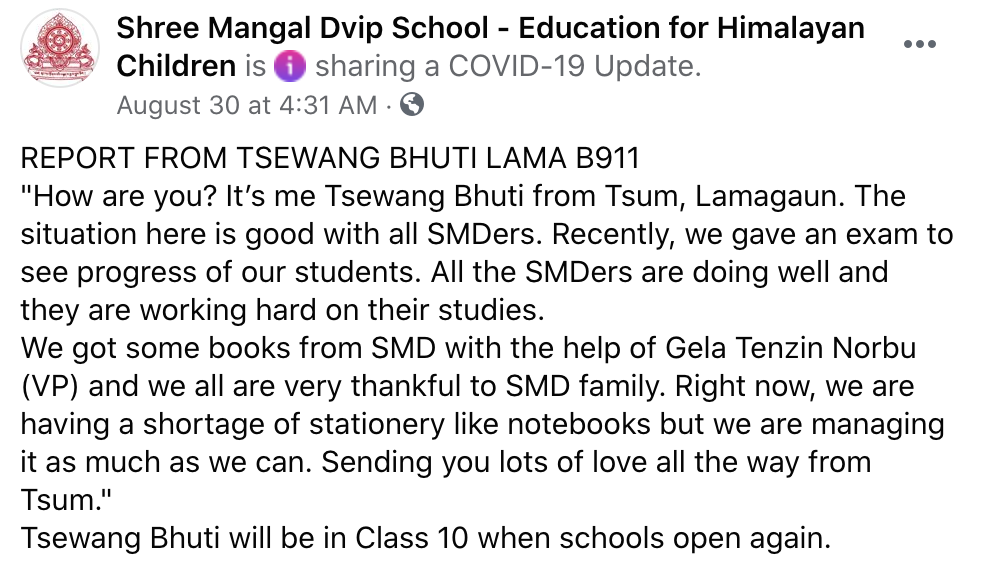 SMD has had to adjust. We can't operate as a boarding school in these conditions. However our concerns are as they normally are: looking after our staff; providing instruction; and making sure the children are adequately clothed and fed. These are the expenses we normally cover from the student sponsorships we receive…we are committed to continue our work with the only difference that the children are in different locations. As such, we are grateful to all our sponsors who loyally continue to support us under these changed circumstances and are bowled over by the extra generosity coming from the US (Himalayan Children's Fund) and Canada (Namo Buddha Foundation). Thank you!
We post frequent updates and videos on our Facebook page. You can help by liking & sharing at https://www.facebook.com/ShreeMangalDvipSchool/
Updates on the situation in Nepal:
Kathmandu Post – COVID-19 Update
Why COVID school closures are making girls marry early