SMD Closed Again!
With COVID-19 on the rise in Kathmandu, the government has ordered all schools to close again and for all in person exams to be postponed. So we had to send all our children home, including the Grade 8s and 10s who were supposed to take their National Board exams in the coming weeks.
As of April 28th, vehicular movement has been prohibited, as such, many of our students will have to stay in the Kathmandu valley instead of going back home to their villages—fortunately, many students do have family in Kathmandu so they have a place to stay. In one way, this is good, because they will be able to more easily access our online classes if they stay in Kathmandu (most of the villages in the high mountains are not connected). Also, they won't be boarding public buses to get to the road head where their treks starts, which will keep them more protected from the virus. (By the way, here's what a trek home is like – Watch Video – a film by SMD alumni Tsewang Gyurme who was on exchange at our partner school in Switzerland).
Nepal's Second Wave
The second COVID-19 wave has engulfed India and is breaking in Nepal, especially on the southern border and in urban areas. Kathmandu is a hotspot. Nepal's medical infrastructure is shakier than India's and our oxygen source (till now) has mainly been India.
The two senior politicians, including the Prime Minister, have been squabbling about power while the medical community has grown increasingly desperate in their warnings. Experts have been predicting the looming danger since last January.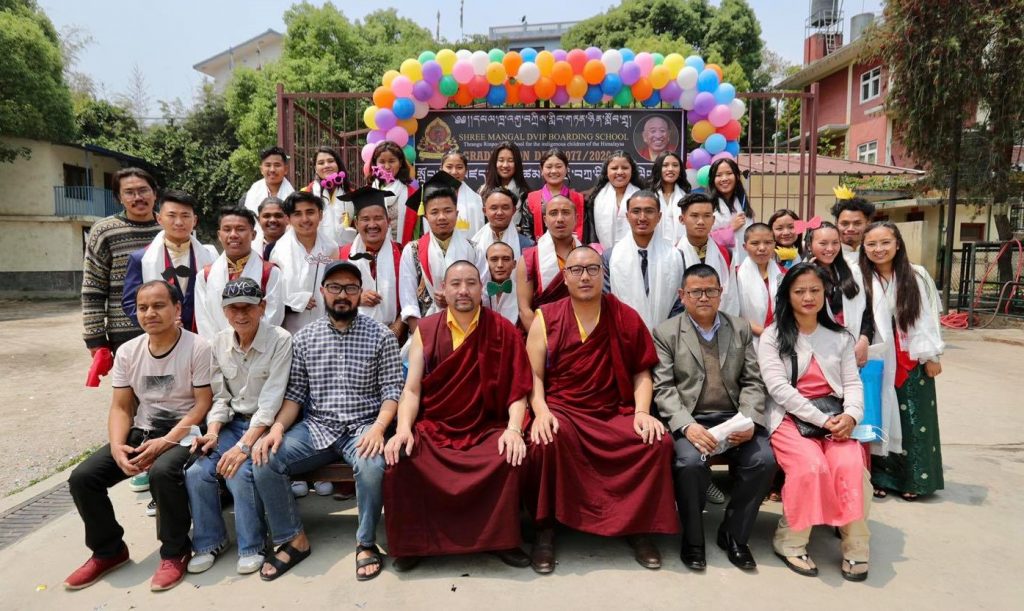 SMD Graduation Celebrations
Our 2020 grade 10 graduates finally got a chance to celebrate their success. The first lockdown starting in March last year prevented us from gathering. But we were finally able to celebrate on April 17th, to award graduation certificates and present each student with a small remembrance. The 2020 batch consisted of 28 students, but five were unable to join us because they are giving service at Thrangu Monastery in Hinang, Gorkha and at Thrangu Nar Satek Monastery in Manang.
The day started with prayers and moved on to the presentation of graduation certificates and a gift to remember Thrangu Rinpoche and SMD by. Then everyone went out for a delicious lunch at our favorite venue – the Hotel Tibet International.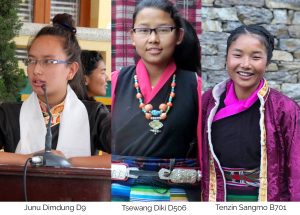 New Scholarship at Shawnigan Lake School
The three SMDers (on left) were given a chance to finish Grades 11 and 12 at Shawnigan Lake School, a beautiful boarding school on Vancouver Island in Canada. In recognition of their excellence, Shawnigan has initiated the Himalayan Leadership Award, a full ride scholarship for a Himalayan student to attend grades 11 and 12 at Shawnigan each year. This year, the fourth SMD student (1st Himalayan Leadership award winner) will start at Shawnigan this September.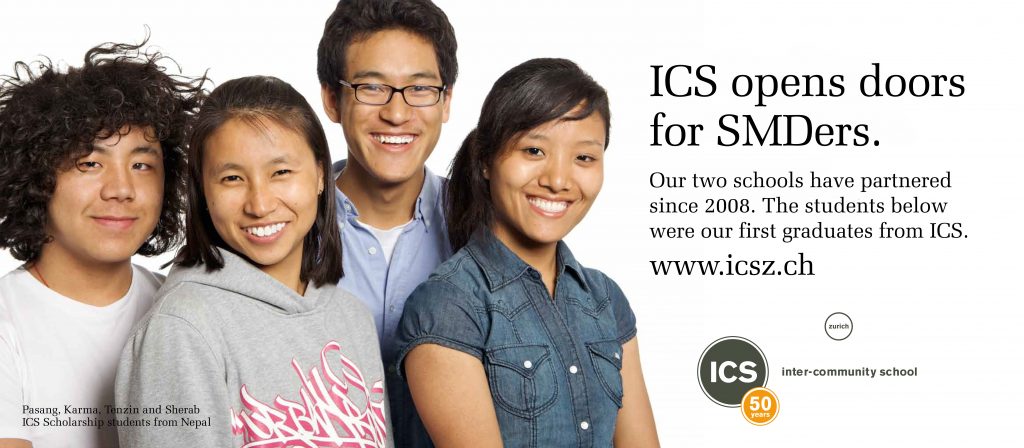 ICSZ and SMD
The Inter Community School Zurich has partnered with us since 2008. It helped to establish SMD's credibility with others on the IB programme at ICS. The school arranges home stay,s and after graduation, the ICS Parent Association helps fund post-secondary education for SMDers. When the M7.8 earthquake hit in 2015, extraordinary generosity from the ICS family helped us rebuild. The four young people above have all finished undergraduate degrees. Sherab Dolma has done too!
Scholarships & Space at SMD
A good thing about SMDers winning scholarships to finish grades 11 and 12 (sometimes grade 10) overseas is that it leaves an empty bed here at SMD, so we can help another child from the mountains.
Student Sponsorship Rates
We will hold our student sponsorship rates the same for the 2021-22 school-year, which we hope will start in June (the government moved our school year end by two months from April to June, so that students could catch up from the material missed during the first pandemic year. We are extremely grateful to all our sponsors and donors. Your generosity is keeping us afloat in these hard times.
In Case You Missed It…
No outgoing mails: The Nepal Post Office has not handled outgoing mail since the pandemic started last year, so we cannot send the children's photos and letters as we usually do.
Drought: It seems it may be another hungry year. The drought (it's rained only two to three times over the last six + months) has already blighted the spring planting. Monsoon is not due until mid-June.